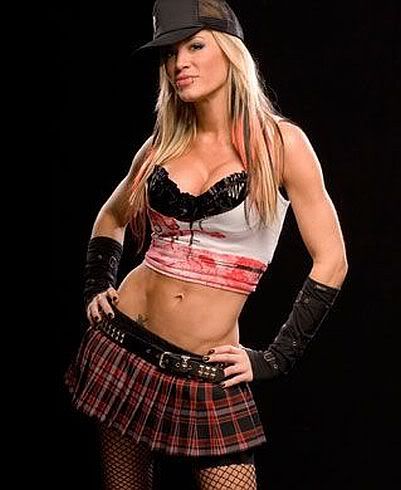 Here are all the WWE Divas that are in the new WWE SmackDown vs. Raw 2009 video game....
From WWE Raw: Ashley, Beth Phoenix, Candice, Jillian, Kelly Kelly, Layla, Melina and Mickie James
And from WWE SmackDown: Maria, Michelle McCool and Victoria
And your standard non-playable characters: Lilian Garcia and Stephanie McMahon.
I thought including Ashley was unusual, but maybe at the time the game was being developed she was still on the roster.
Or maybe she was included because she's still very popular.
And who knows, one day we may get a WWE game that has a "Women's Wrestling Legends" section.
I would think though that it would be a bit too soon to include Moolah and Sherri Martel.
But imagine having Mad Maxine, Wendi Richter, Debbie Combs, Leilani Kai, Missy Hyatt, Rockin' Robin, Heidi Lee Morgan, Alundra Blayze, Tammy Lynn Sytch, Luna Vachon and Tori as unlockable characters.
But I guess that would be a whole different game huh?
Maybe "WWE SmackDown vs. Raw: Divas Edition" ?