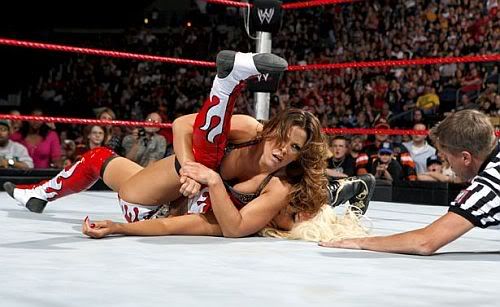 For the second straight week in a row on WWE Raw, four time ex WWE Women's Wrestling Champion Mickie James pinned the current Diva's Champion Maryse.
This time was in a tag team, but Mickie still scored the pinfall.
Will Mickie be wearing the belt around her waist soon?
Everyone likes Mickie.
Even when she was doing the "Psycho Mickie"storyline with Trish, she got huge pops, even bigger sometimes than the Golden Girl Trish herself.
And Mickie has paid her dues.
She started wrestling in 1999 and wrestled for Indy wrestling promotions, TNA and OVW before finally landing in the WWE in 2005.
The current series of matches with Maryse at house shows and on TV are really getting attention.
To be fair though, one half of the reason Mickie is looking so good is Maryse.
Maryse has come a long way from Miss Hawaiian Tropic Canada in 2003.
This may sound strange, but as much as I like Mickie, I hope she doesn't get the belt quickly.
I hope we get to see a really good feud.
It doesn't have to be the "old school" six month to a year draw out program, but I would like to see some real build up.
I personally think it would be a good idea to have the title change hands in August at SummerSlam.